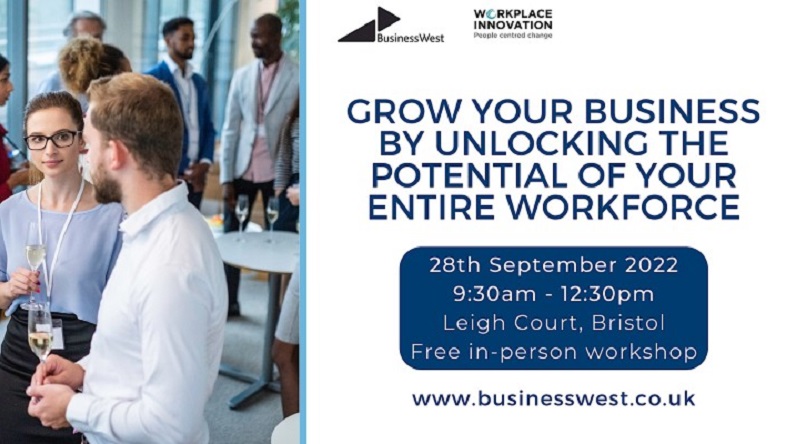 Grow your Business by Unlocking the Potential of your Entire Workforce
28th September 2022 @ 9:30 am

-

12:30 pm

BST
Grow your Business by Unlocking the Potential of your Entire Workforce
Do you want to drive business growth by cultivating a talented and creative workforce?
A happy workforce is an effective workforce, and it often creates wider benefits for the company as a whole.
Join us for our interactive half-day workshop at Leigh Court in Bristol where you'll hear expert advice and knowledge that will inspire you to rethink how you can empower your workforce to get the best out of them for your business.
Why is this important for business success?
A growing number of companies across Europe are seeing a boost in business performance and employee retention by focusing on developing the skills, knowledge, and experiences of their entire workforce.
Research suggests that organisations adopting these practices see a 20-60% performance increase across a wide range of indicators including; productivity, product and service innovation, customer satisfaction, employee engagement, and well-being, compared with companies retaining traditional ways of working.
What can I expect from the workshop?
Share your thoughts and ideas in our interactive workshop, which will give you the chance to:
Gain inspiration and practical insights from international experts and innovative companies

Share experiences with other participants

Identify practical actions for your workplace as well as the tools to deliver them.
You will also gain insights into how to improve your effectiveness as change leaders and creative thinkers, get advice from our experts, and learn about further support from Business West and Workplace Innovation Europe.
Who can attend?
This workshop is open to businesses of all sizes and sectors and is primarily aimed at people in management positions and / or individuals who are involved in business strategy and planning.