We are Workplace Innovation.
Watch our Workplace Innovation animation
Our team has been at the heart of the workplace innovation movement in Europe since the early 1990s.
We created Workplace Innovation Europe as a not-for-profit organisation specifically to promote and develop workplace innovation.
Our advice, coaching and hands-on support has helped many companies, public sector organisations and NGOs across Europe to improve performance, enhance capacity for innovation and create better jobs for their people.
We have also helped shape and deliver policies and programmes for the European Commission, governments, business support agencies and employers' organisations in many countries.
Our approach combines hard, evidence-based argument with the ability to stimulate and engage senior leaders, managers and front-line employees. We work with leading international universities and research institutes to capture and analyse leading practice, and to translate it into practical tools and learning resources.
And we have lots of fun working with our clients and partners!
What we do
We help create innovative workplaces that enable people at every level of the organisation to use and develop their full range of skills, knowledge, experience and creativity. Our previous In-Company Programmes have enabled companies to gain up to 20-60% improvements against a range of indicators including productivity, employee engagement and mental health and well-being.
We ensure that all employees have a voice and can influence improvement and innovation through our unique employee survey, the Workplace Innovation Diagnostic®, providing actionable insights into how to achieve effective and sustainable organisational change.
We support change leaders, managers and emerging leaders, through our Leadership Programmes, to acquire the knowledge, skills and resources needed to achieve systematic and sustainable transformation, supported by individual and in-company facilitation and coaching.
Peer-to-peer exchanges of knowledge, experience and ideas are one of the most powerful forces for workplace innovation and improvement. That's why we've created Fresh Thinking Labs – an online and in-person international platform that enables you to network and access the wisdom, expertise and insights of change leaders from across Europe through interactive webinars, events and themed Labs.
Watch our short Fresh Thinking Labs animation
Workplace Innovation doesn't just change organisations – it changes the people who work in them, not least senior team members and managers. It is strongly associated with trust, accountability, curiosity, creativity, coaching behaviours and emotional intelligence, all of which grow with the workplace innovation journey.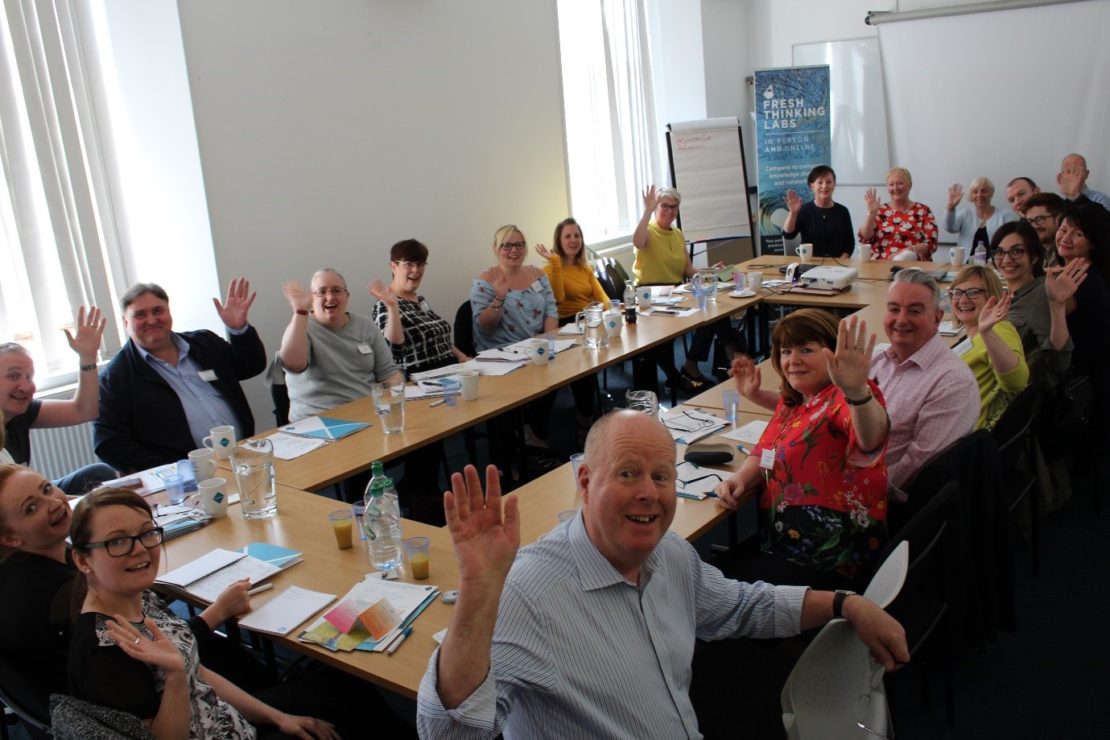 Our clients think we're different.
We listen, and create opportunities for reflection.

We don't do jargon, and we translate concepts and theories into everyday language.

Our approach is deeply grounded in evidence – we really dislike half-baked models.

We blend our expertise with yours.

We travel with you on a journey of learning and exploration.

We introduce you to other great companies and interesting people – all part of the service!
For companies and their employees, workplace innovation and progressive people practices will lead to improvements in productivity, performance, skills utilisation, employee engagement and well-being.
Workplace Innovation helps companies to compete more successfully in challenging markets and public bodies to deliver improved services at lower cost. Its importance is recognised by the EU and by governments across Europe and Asia.
We work with leading international universities and research institutes to capture and analyse leading practice, and to translate it into practical tools and learning resources. We contribute to new thinking and have written and published extensively on workplace innovation.
As co-originators of the workplace innovation concept and as co-leaders of the European Workplace Innovation Network (EUWIN), we have been amongst its most active proponents for more than two decades. We are part of an international task group charged with developing a system of accreditation to promote and sustain robust approaches to workplace innovation.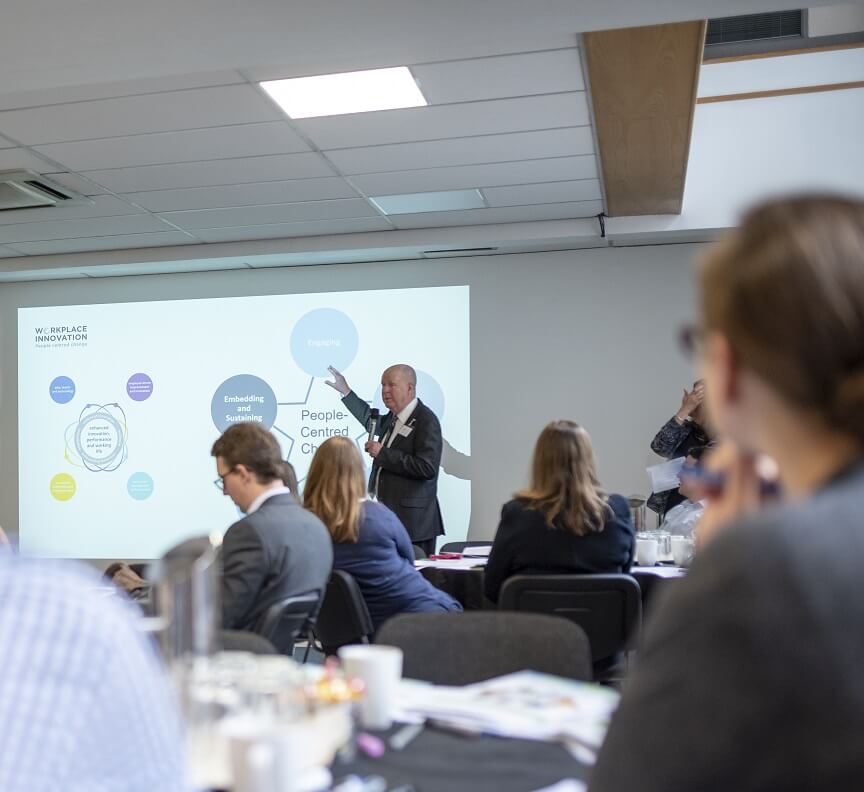 We've worked with diverse companies, not-for-profit organisations and public bodies, and we're delighted to share their success stories. Here are some recent examples:
Argenta
Reduced the impact of functional divisions to improve workflow, delegated decision-making to team and involved staff in innovation.
Significant cost reduction and efficiency gains, and major steps towards creating a culture of improvement and innovation.
Booth Welsh
Greater transparency and measures to engage staff, reducing functional silos and stimulating employee-driven innovation.
60+ ideas generated by employees; Martin Welsh (MD) argues that WIEP has placed the company 12 months ahead of its competitors.
Cornerstone
Introduced self-managed teams and a flatter management structure to address changing and more complex demands in the care sector.
Enhanced client satisfaction, greater resource efficiency and improved staff engagement.
DS Smith
Leadership transparency; delegation of decision-making to frontline meetings; employee-led process mapping and improvement.
We played a vital role in changing work practices throughout DS Smith Lockerbie, leading to a £1.4m profit upturn without capital investment.
Laing Traditional Masonry
Leadership transparency and enhanced 2-way communication with site-based teams combined with good practice teamwork principles.
Significant improvements in meeting targets and an average improvement in profitability of 6% per project.
Premier Hytemp
Introduction of a representative 'Shop Committee' bringing employee voice into decision-making and stimulating ideas for improvement.
MD claims that KPIs have all improved as a result of employee voice measures introduced by WIEP, building pride in the workplace.
But don't just take it from us. We work closely with leading researchers and experts across Europe to ensure that our approach is firmly grounded in evidence. That's what makes us different!
Contact us if you'd like to see more of the evidence, but here is a quick extract:
"Comparing like with like, companies that systematically empower employees using evidence-based workplace practices gain 20-60% improvements across a wide range of business indicators, from productivity to employee health, engagement and well-being."
I was delighted with the facilitation and enthusiasm that both Peter and Rosemary added to our Mission and Vision strategy day. Having more than 20 senior people from my business out of the office is a big commitment and Peter and Rosemary certainly helped get the most out the day and helped us map out the road ahead. Look forward to working with them again in the future
The power of Fresh Thinking Labs is being curious and open to learning from peers from similar and distinctly different sectors and from across Europe.  I returned to my workplace with lots of ideas to try out and a number of new relationships formed – people that share a desire to make working lives as fulfilling as possible and recognise that workplace innovation, driven by employees, makes the real difference between good and leading edge.
This has been a really good journey for us for what we needed to do, bringing a coherence across the organisation.
It's massive, you actually enjoy going to work now, it's different, everyone's in a different mindset, everyone's enjoying it now and getting input and getting them to speak and don't be afraid to approach managers and whoever, everyone's got a voice now and that's what we took out of this it's been fantastic.
If you have an enquiry or would like to discuss how Workplace Innovation can help your organisation, call us on +44 (0)333 987 5116 or register your interest: