"The crisis I've been waiting for"
Rethinking Jobs and Leadership for the Post-COVID World
FREE Interactive Workplace Innovation Masterclass (Webinar)
Gain valuable insights into the ways in which business leaders and their companies can position themselves for the post-COVID future, drawing on evidence-based workplace practices and the creation of pervasive and sustainable innovation cultures. This Webinar will share knowledge and experience of job redesign, skills development and utilisation, digital innovation, self-managed teams and flatter organisational structures, and how they can be achieved by harnessing employee voice, employee-driven innovation and co-created leadership.
Participants will learn from, and share experiences with Dorte Martinsen, a business leader responsible for the dramatic transformation of her company. Saved from collapse in 2009, the company's empowered and self-managed workforce has been its strongest asset in weathering the last few months. According to Dorte, "this is the crisis I've been waiting for!"
Dorte says that this is the crisis she has been preparing for since 2009.
In 2009 she had no background in management when Dorte took over as CEO of family-owned BM Silo, a Danish SME producing agricultural products. The company was in crisis, halving its workforce due to the economic climate, and its future looked uncertain. Dorte's one stipulation was that she should run the company in her own way. Her vision was for BM Silo to compete through innovation led by its people.
Dorte introduced employee-led working groups to create smarter ways of working, more responsive to "what the customer would like". Self-organised teams manage their own rosters to reflect each member's family circumstances – with the result that machine utilisation actually increased! Multi-skilling ensures that everyone is flexible across the whole production process. The result: a return to pre-2009 levels of employment, a remarkable throughput time of 3 hours from order to completion, and a profitable increase in exports from 50 – 90%.
And today, her self-managed shopfloor teams have adapted production to the demands of social distancing while she focuses on renewing and strengthening relationships with customers and suppliers – leading to a growth in output despite the crisis.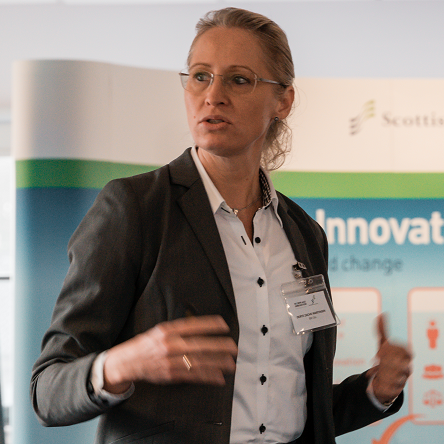 Feedback from previous webinars
"Thank you for an insightful event. There is much I have taken from this" (Raf Mbwana, EMCOR UK)
"Thanks so much for the really thought-provoking session" (Phil Bridgeman, Business West)
"Thought provoking and helpful.  Thank you" (Wendy Woolley, HMRC).
"Thanks for the energy!" (Patrick Versee, Gerflor)
The vast majority of participants reported their intention to make changes in their organisations as a result of lessons and insights gained from our webinars.
Follow-up
A choice of an hour-long follow-up session on 27th August will be offered to participants to enable them to take part in further, more detailed discussions, and to plan and implement changes inspired by the event. SE Workplace Innovation Specialists play an active role in these sessions, signposting participants to available sources of support.