CHECKING IN WITH YOUR WORKFORCE

Our jobs, teams and organisational structure may still be broadly the same, but the context in which we're operating is now radically different, affecting team dynamics and individual motivation.  We're now even more reliant on technology to deliver every aspect of our jobs and lives and are having to learn many new skills, adapting both formal and informal  communications to enable us to keep delivering and supporting each other.
Continuous improvement is no longer enough – we're having to rapidly rethink our business models just to survive, and innovation is the only way to keep going.  The pressure on leaders is immense, and it can be hard to find the time and space to engage everyone in finding the new solutions to take the business forward.
The Workplace Innovation Diagnostic® has helped many businesses to enhance productivity, engage their whole workforce in generating ideas for innovation and improvement, and increase job satisfaction and wellbeing.
Right now, it can help you assess how your teams are adjusting to home working and then reinforce those practices which can help make it as positive and productive an experience as possible.
The Diagnostic draws on many years of research and operational experience. It's also highly action-oriented, focused on identifying improvements to those specific practices which support high performance, innovation and employee engagement.
It takes no more than 15 minutes per employee to complete, and you can even include additional questions which relate to your particular business situation.  We provide full technical support throughout, and do all the analysis to provide you with practical options for action on priority areas for your business.
We provide bespoke packages of online support to translate the Diagnostic findings into effective and sustainable actions, all designed to improve business performance, innovation and employee engagement. This includes the Workplace Innovation Practitioner Programme an action-focused, interactive, online package providing your change leaders with the knowledge, skills and practical support they need to drive real transformation in your business.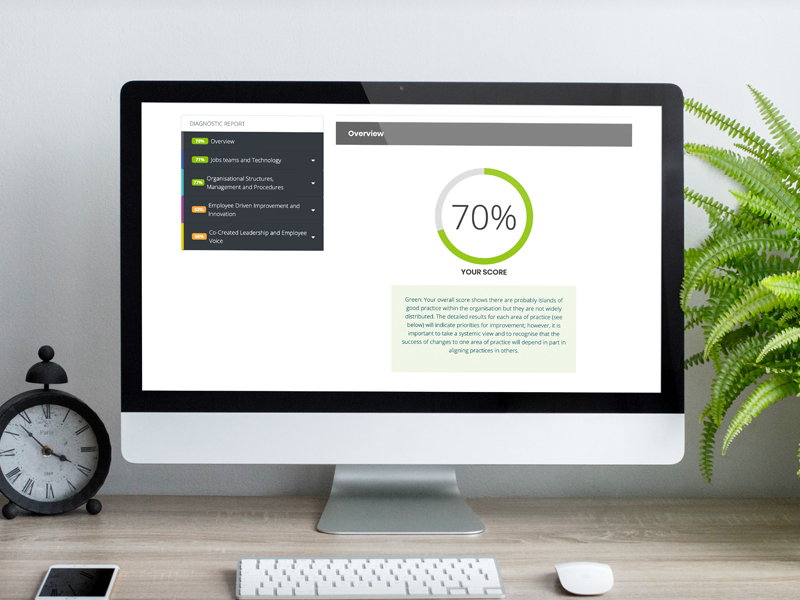 Talk to us to discover more!
I've spent too many hours in my career struggling with engagement surveys. We should stop pretending that they deliver any change, let alone sustainable transformation. They really are dead on their feet.

This is the most focused Diagnostic I've seen. It identifies where workplace practices can be improved, and drives an action plan that is going to deliver lasting change.
I can understand from the Diagnostic what the genuine pulse of the business is and how it feels. Previously, I would have just kept on blindly continuing thinking everything's good.
All of a sudden there was a method of measuring the issues we could see in the company. Once you can measure it, you can actually analyse it and do something about it.