The Essential  Fifth Element Guide to Workplace Innovation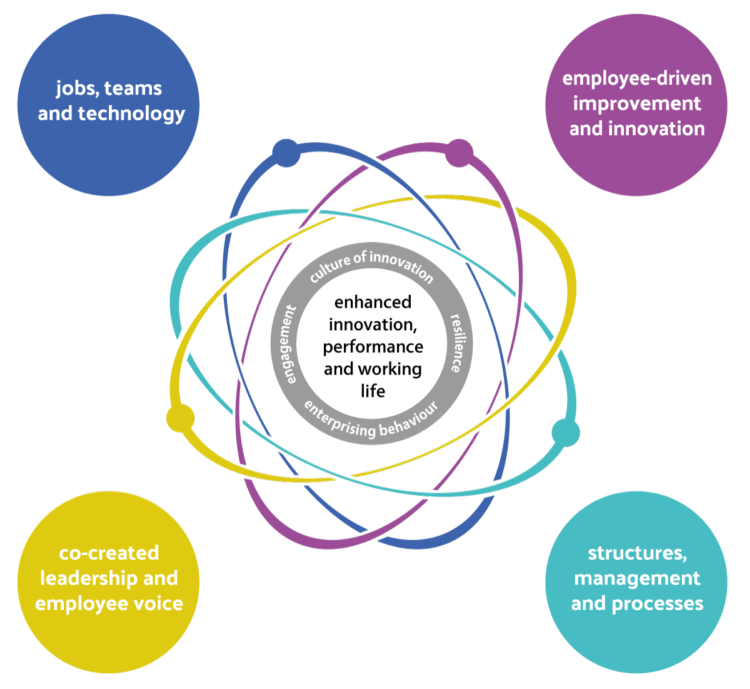 Companies face unprecedented challenges in an economy dominated by globalisation, rapid technological advances, demographic change and fast-shifting consumer demands. The ability to reinvent products, services and processes continually is becoming essential for survival and success.
Tackling these challenges can't be done by senior teams alone: they need to harness the creativity, insights and engagement of the entire workforce. Leaders need to empower others to take the initiative, coaching and supporting them towards successful outcomes. They must become the champions of employee empowerment, participation and voice.
Leaders are responsible for aligning the whole organisation to a shared vision and strategy, and this is often the biggest challenge they face. Companies can easily accumulate a jumble of inadvertent practices, traditions, sub-cultures and interests. Inherited structures get in the way of the cross functional collaboration needed to generate sustainable solutions and fresh thinking. Middle managers may act as a barrier reef, slowing the wave of change across the organisation as they defend their own areas of control.
Getting everyone to pull in the same direction can feel like an impossible challenge.
And employees, reputedly 'our greatest asset', then begin to feel disillusioned and start to disengage. There is never time to listen to their ideas for improvement or innovation. Or worse, they're told to keep their heads down and not raise difficult issues.
Innovation, productivity and engagement are being discussed everywhere. So why are they so difficult to achieve?
The challenge for leaders is to take a systemic view of their own organisational structures and practices. Creating the culture of innovation and enterprise needed for twenty-first century challenges requires tenacity. It means confronting deeply embedded attitudes and behaviours, asking difficult questions, and being open to experiences from a diverse range of other organisations.
The concept of workplace innovation offers a practical approach, grown from years of experience and decades of research evidence. This short guide offers inspiration and solutions, helping you to assess current practice in your company, suggesting pathways to change, and signposting you towards further sources of information and support.
The Guide is built around five challenges:
Why is workplace innovation important?
How can workplace innovation transform your organisation?
Where to begin?
What are the 'Elements' of workplace innovation?
How do you make it happen?

The end results will surprise you! Organisations of every size and sector report higher performance, better places to work and an enhanced culture of innovation. So start the journey now by watching our short animation below. . . .