We are there every step of the way, helping you to achieve meaningful, lasting improvements across your whole business. We'll help you to diagnose the challenges and guide you to make real and sustainable gains.

There is no one way to take this journey, but here is our recommended path to achieving huge improvements in workplace engagement, wellbeing and productivity.
Discover
Learn about how your organisation functions, get input from your whole team, and create a plan for change.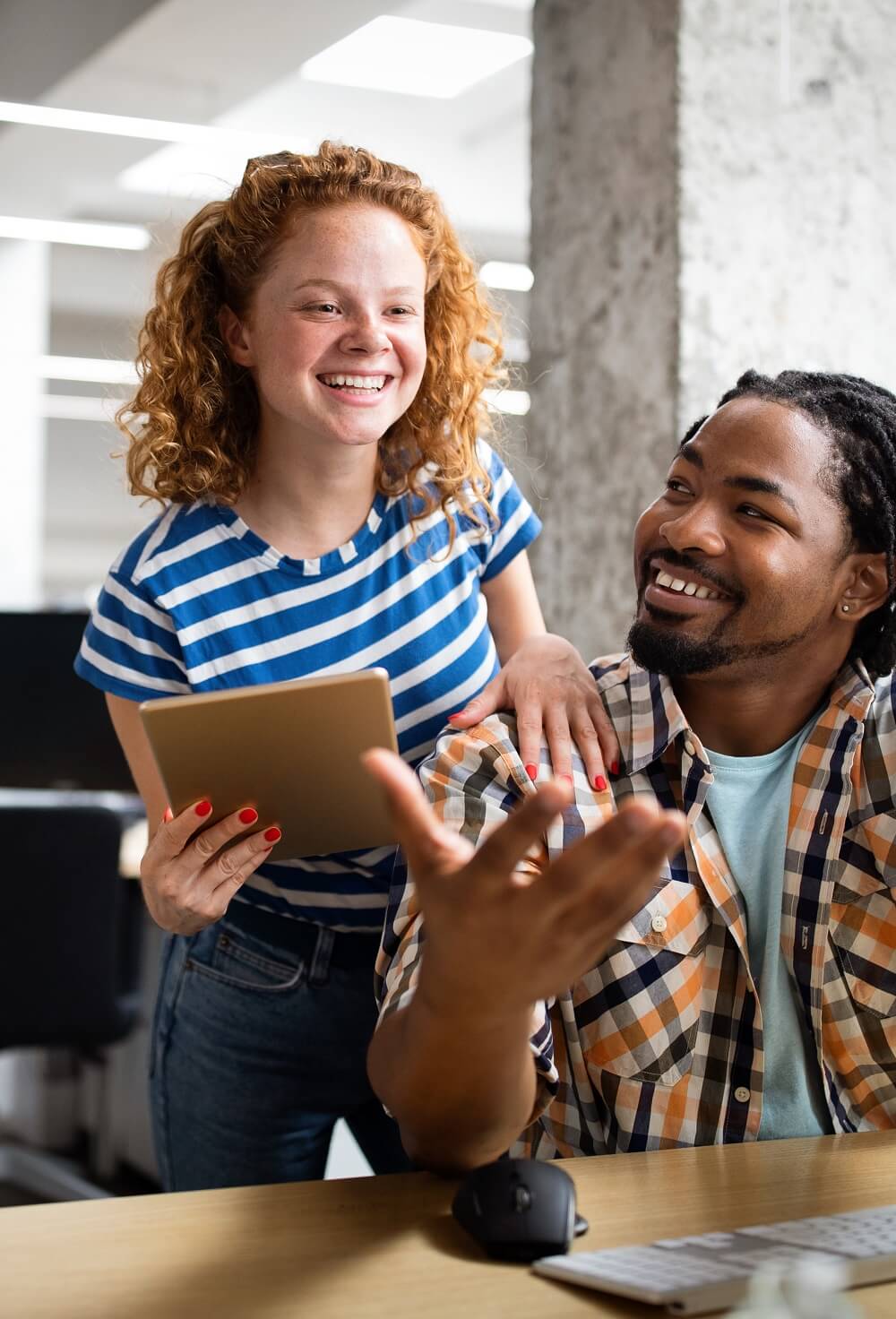 The Workplace Innovation Diagnostic ®
Our in-depth employee survey will give you insights into the strengths and weaknesses of your organisation, and how you can use your team's skills and knowledge to take action to improve your workplace. Try our FREE taster!
Clearly visualised results

Actionable takeaway

Expert support at every step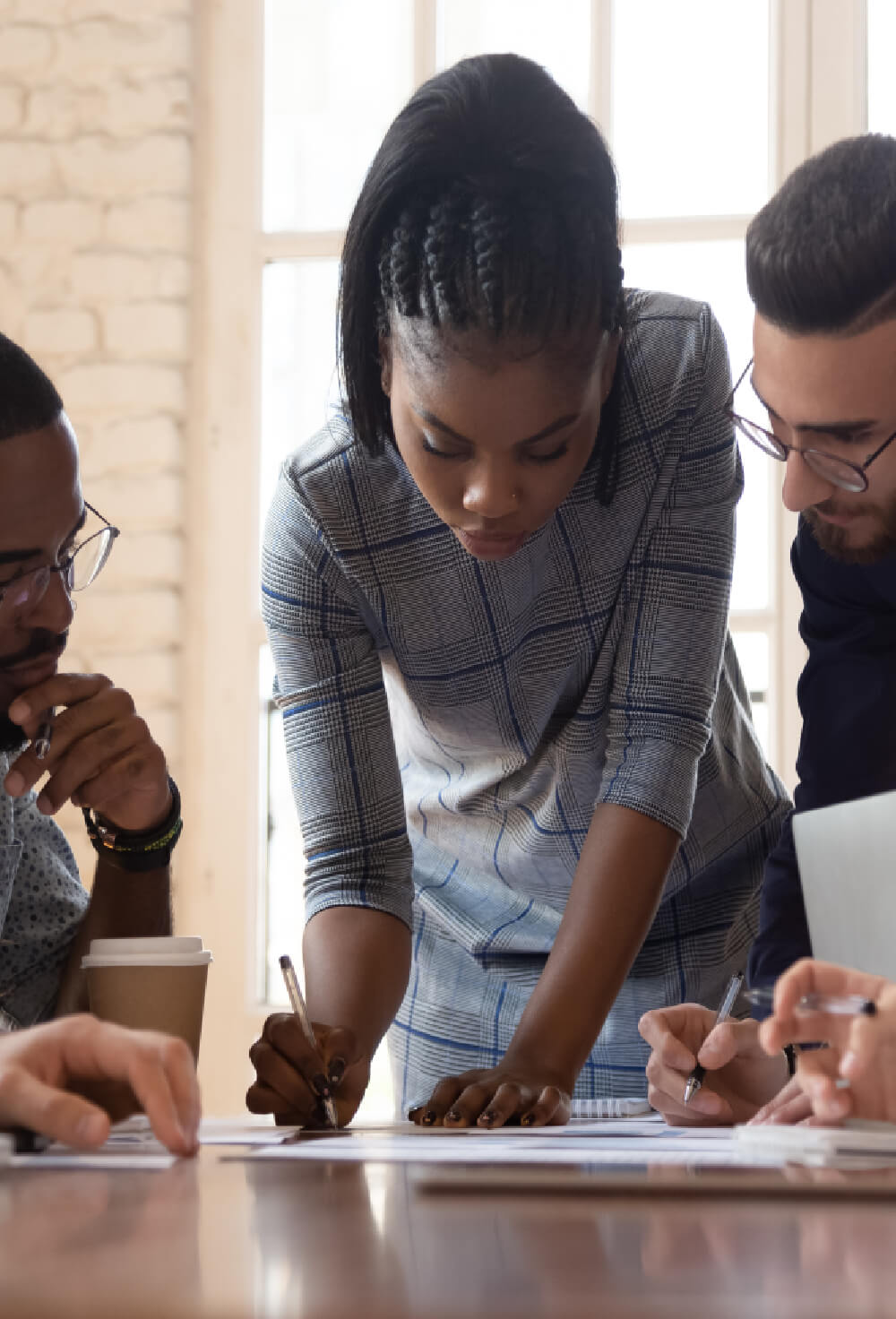 Group recall workshops
This method allows your team to express their feelings and opinions in a safe, constructive space. Our experienced facilitators encourage employees to tell it like it is and unleash their ideas for innovation and improvement.
Analyse the causes and meanings of day-to-day issues

Create a clear agenda for change
Group Recall – a powerful tool for qualitative research
We developed Group Recall as a specific approach to engaging managers and employees in analysing current workplace practice and culture through the exploration of specific, shared experiences; we have used it in a wide variety of workplace situations and have found it to be very adaptable. Group Recall uses 'collective remembering' providing powerful insights into organisational behaviour and practice, invariably generating powerful qualitative data and a clear agenda for change.
Group Recall differs from traditional focus group methodology in that it doesn't ask participants to address factual questions directly – rather it allows the 'facts' of the case to emerge from experience of day-to-day working life. Like focus groups however, Group Recall is relatively resource intensive. Nonetheless our experience over several years strongly suggests that this investment is amply repaid through the ability of the methodology to generate insight and understanding of complex patterns of organisational behaviour and practice.
The basic principle is that the reality of how an organisation works can be revealed by inviting peer groups of between six and ten employees to identify and analyse shared experiences – either specific instances which they have all experienced or more generalised aspects of day-to-day work. Rather than asking people
to make abstract assessments of how 'good' an organisation is in terms of pre-defined categories (often the approach taken with traditional focus groups), group recall involves participants in analysing the causes and meanings of issues which arise in day-to-day working life.
Anecdotes therefore become an important starting point for analysing the hidden processes that take place at work. For example, instead of asking a group "Does this organisation respect the knowledge and experience you bring to the job" the researcher would ask "Can you give me an example of a situation where you felt good about having used your knowledge and experience to make a real contribution to the job?", or conversely "Can you give me an example of a situation which made you feel that your knowledge and experience were being ignored?".
The group can then be guided to analyse the factors which make the difference between the two situations, again grounded in actual experience of working life in the organisation. Transcripts of the discussion can be further analysed using methods which allow key themes to emerge from the data itself. Results can be translated into a practical action plan template, enabling users to create a focused strategy for sustainable change, linking specific recommendations to the company's business strategy, growth and improvement objectives.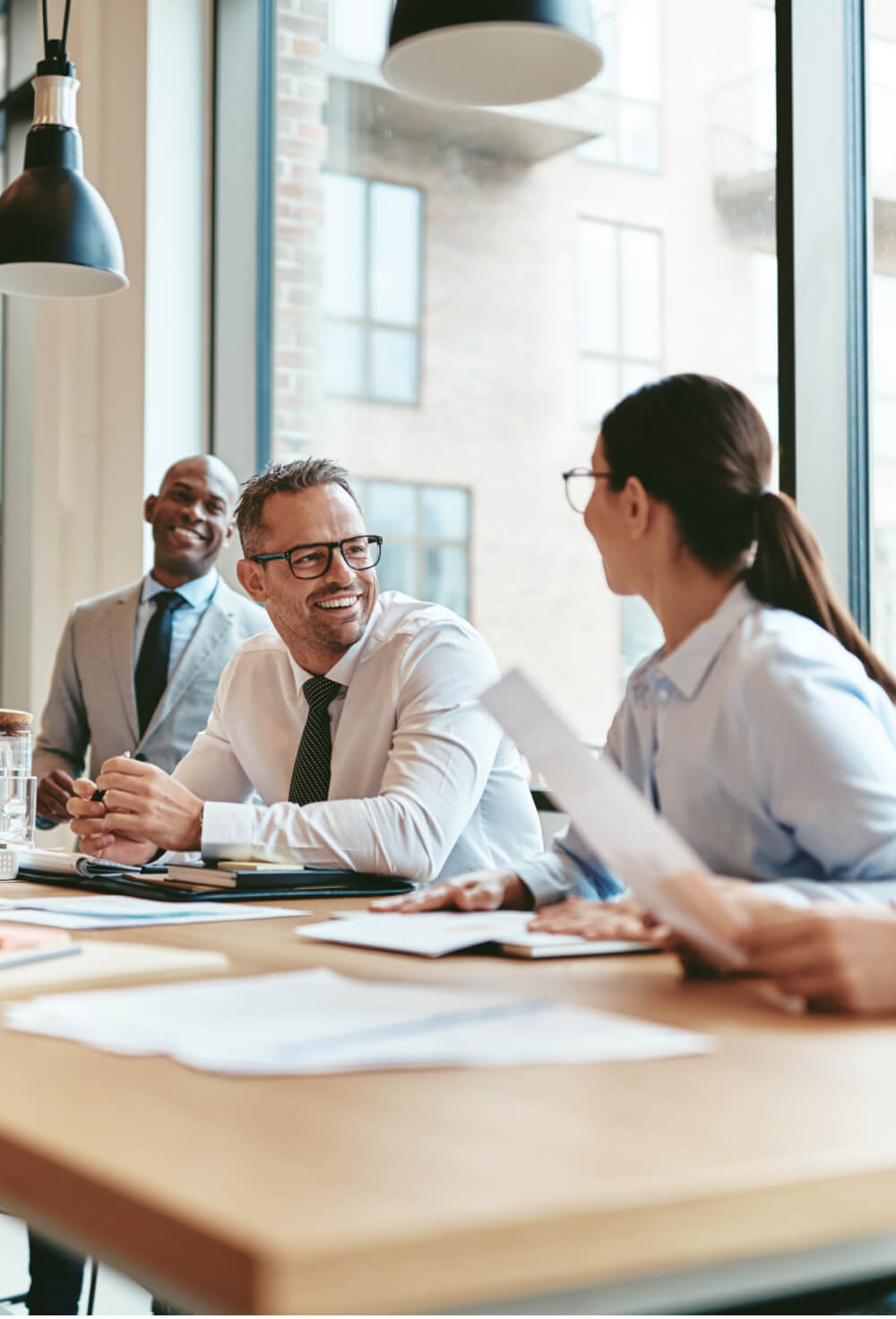 Bespoke workshops and time-out sessions
Dive deeper to gather even more data and tools for your journey. Our workplace innovation experts will curate valuable content and interactive experiences for your whole team to get involved in.
Interactive workshops and presentations

Expert-facilitated meetings and conferences

Access to exciting keynote speakers from a range of different industries
Our bespoke workshops and time-out sessions
We deliver inspiring and highly interactive in-house workshops and presentations, as well as facilitating internal meetings and conferences.
We can also draw on our large and diverse international pool of experts from some of the world's leading businesses, employer organisations, trade unions, universities and governments.
We wanted a WOW factor and you've certainly delivered that!
TONY WILLIAMS
EXECUTIVE DIRECTOR OF PEOPLE, ORBIT GROUP
We engage employees and managers, releasing their creative potential, stimulating new ways of thinking and empowering champions and teams to take fresh ideas forward.
Our aim is to stimulate entrepreneurial behaviour and build a positive, inclusive and sustainable change culture.
We enable and facilitate Engagement Events, Innovation Spaces, FabLabs, Continuous Improvement Groups and Employee Forums to create new, open dialogue across all levels of the organisation.
Founding Director Professor Peter Totterdill is a world authority on workplace innovation and related issues and an acknowledge conference speaker. He can deliver inspiring workshops, presentations and webinars on diverse topics including;
Productivity and Innovation
Getting Ready for Digital Innovation
Good Work and Mental Well-Being
Employee Voice
The Future of Work & Organisations
*Acas *Booth Welsh *Browne Jacobson *British Council *Capita *CEDEFOP *Cornell University *Cornerstone *Danish Society of Physicians *Danish Technological Institute *DS Smith *EIPA *Enterprise Estonia *European Commission *EUROFOUND *European Medicines Agency *Futures Housing *Highlands & Islands Enterprise *Irish Government *Korea Labor Institute *MBDA *Met Office *Norwegian Lean Forum *Nottingham City Council *Novartis *OECD *Pärnu City Council *Romanian Social Care Sector *Scottish Enterprise *Seoul Innovation Forum *Sinnergiak *SIPTU *Society of Personnel & Development Scotland *Trinity Laban Conservatoire *United Nations *Work Foundation
Develop
Elevate team members into change leadership roles, and engage with the workplace innovation community to learn and exchange ideas.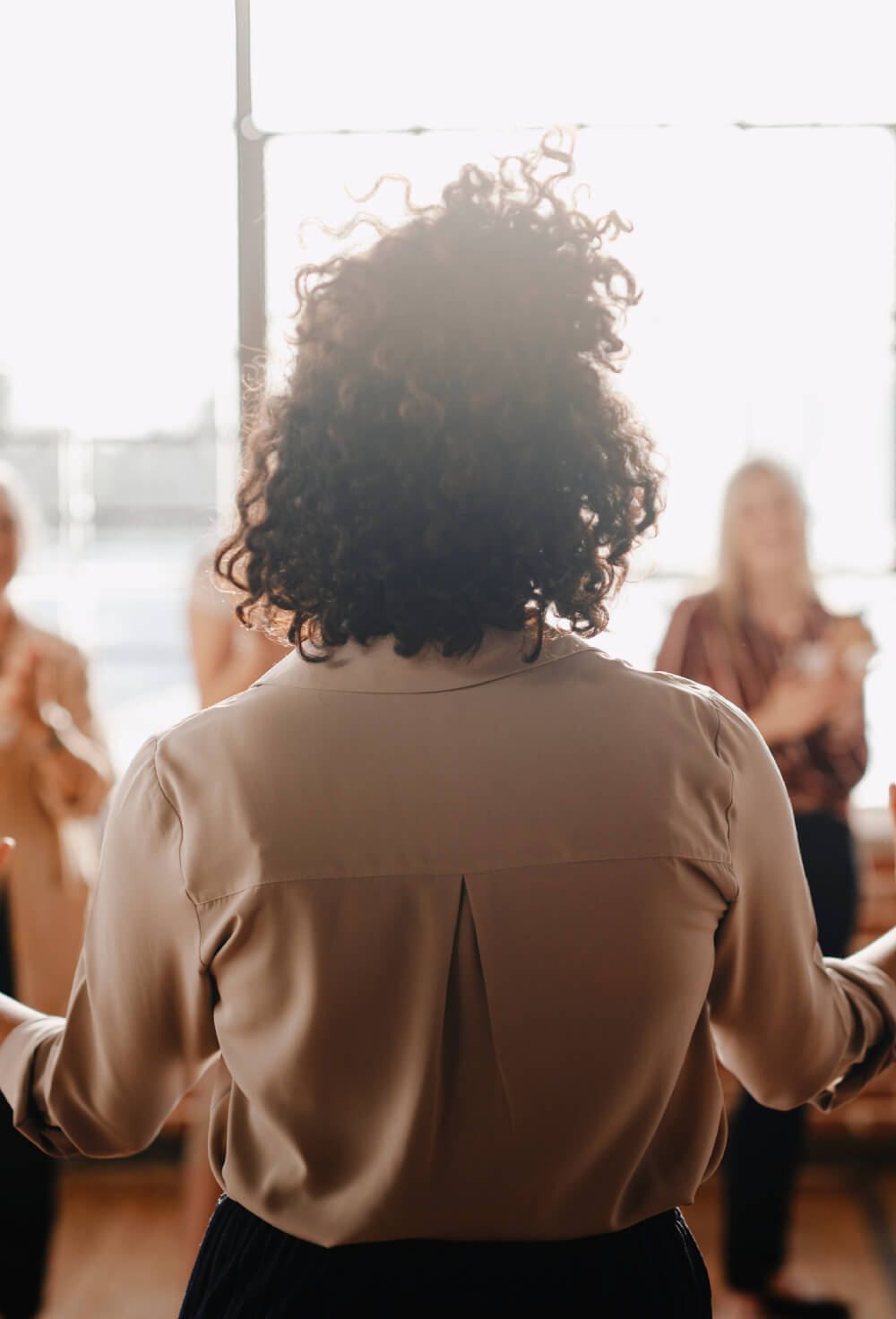 Supporting change leaders
Change is driven by effective leadership. Our four leadership programmes will empower your team to take the initiative and develop their own innovative solutions to the challenges in your organisation.
ILM accredited programmes with recognised qualifications

CPD accredited short courses

Gain knowledge, skills and confidence with hands-on, interactive learning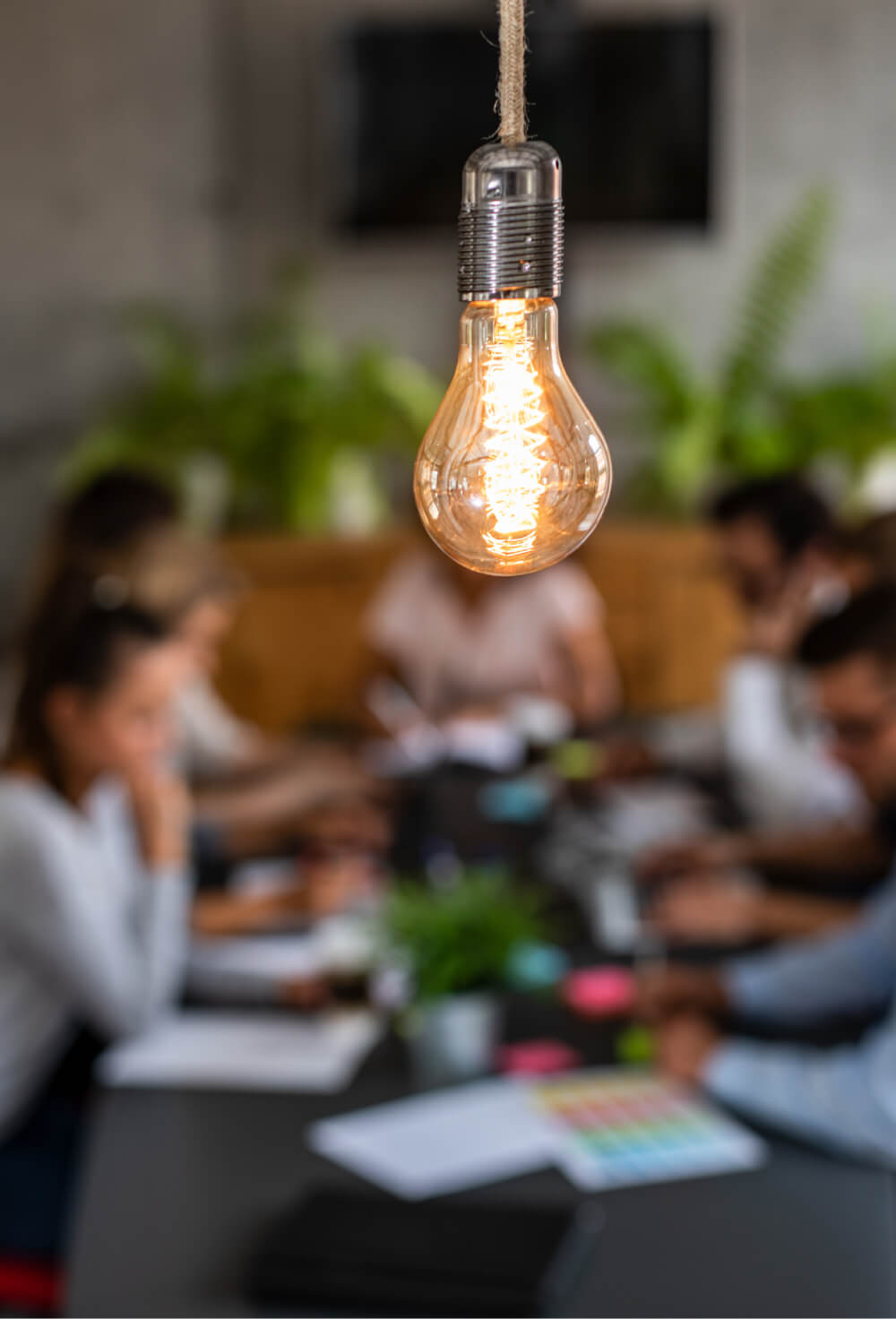 Join the community
Peer-to-peer exchanges of knowledge, experience and ideas are one of the most powerful forces for workplace innovation and improvement. That's why we've created Fresh Thinking Labs – an online and in-person platform that enables you to access the wisdom, expertise and insights of change leaders from across Europe.
You can also access our free Knowledge Bank and Community, a curated collection of films, case studies, practical resources and events managed by us and our international partners.
Make Change Happen
Gain the skills to take the action that will actually improve your organisation and deliver real results over the long-term.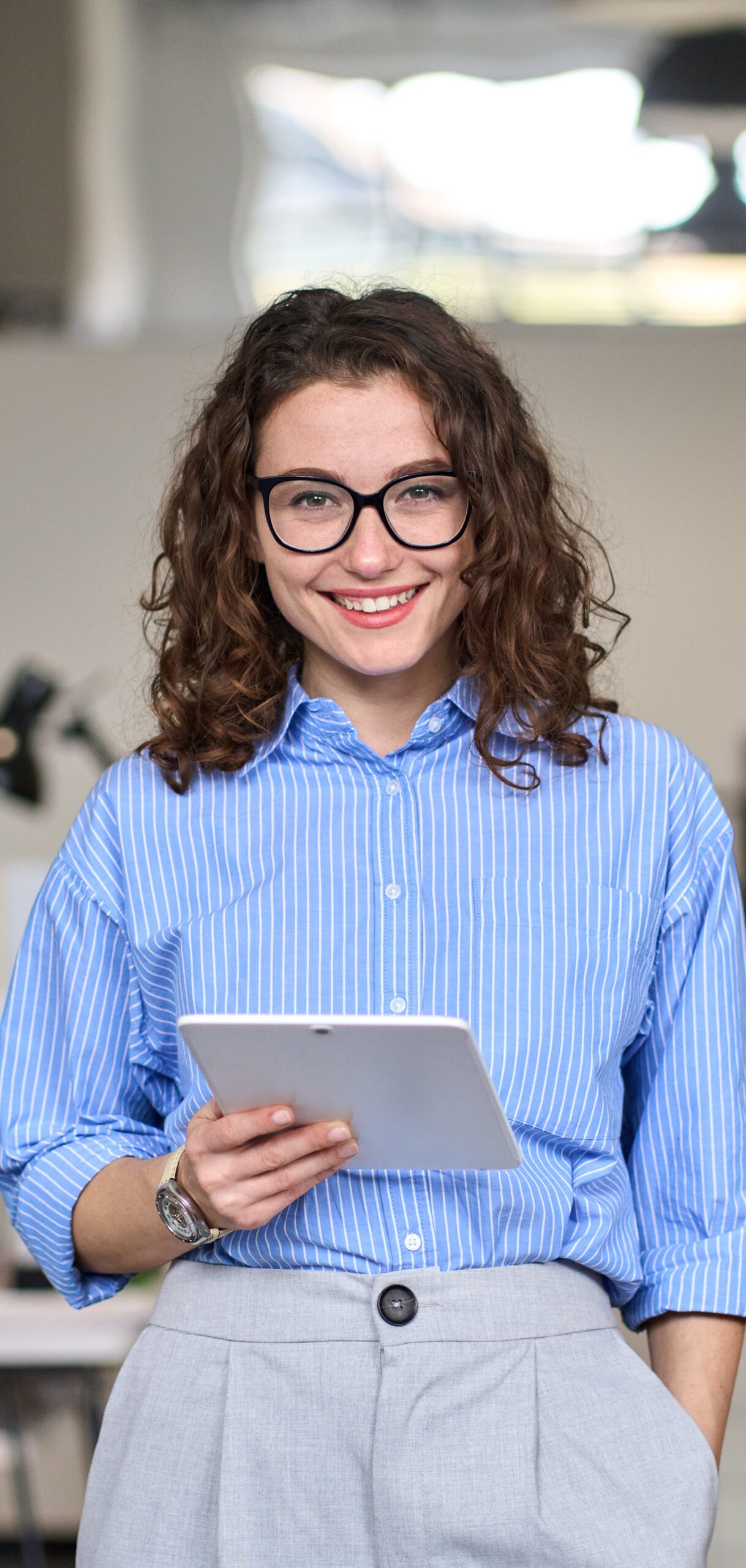 Facilitating, mentoring and coaching
We enable and facilitate Engagement Events, Innovation Spaces, FabLabs, Continuous Improvement Groups and Employee Forums to create new, open dialogue across all levels of your organisation, from the Board to the frontline.
Enhance communication

Build trust and confidence

Create agile and effective teams

Align systems and procedures

Encourage continual improvement (CPD)

Engage employees in innovation

Strengthen employee voices

Develop leadership at all levels
Not sure what's best for you?
Try a discovery day to get a flavour of how workplace innovation can improve your organisation.
Our highly interactive full or half-day workshops show how you can use the knowledge, skills and experience of employees at every level to enhance performance and create a great place to work.

The workshop is based on a fast-moving, customised combination of short presentations and films combined with group exercises, open dialogue and diagnostic opportunities.